This was just awesome. Full of fucked up umami ingredients to make a dirty brunch dish. The traditional recipe was pillaged and messed around with. Very, very loosely based on a traditional steamed Chinese turnip cake which is eaten as part of their New Years celebration. I'd never eaten steamed turnip cake before. So my expectations were on the low side, but I was blown away. Sweet, slightly sticky dough like batter, made with rice flour, spring onions, turnip and sausage. This is steamed, then set and sliced so that you can fry the slices until crisp on the outside. I was too impatient (hungry) to fully steam and set, so took a few shortcuts and decided to start frying it when only partially set - but malleable enough to form into burger sized pieces - perfect for frying.
The fried cake was crunchy to the bite with a soft, gummy interior, punctuated with nuggets of sausage. Intensely dense and flavoursome. It was comfort food of the highest order, and perfect for brunch.
I served the cake with a poached egg, pickled cucumber and a dollop of hoi sin sauce. Recipe below....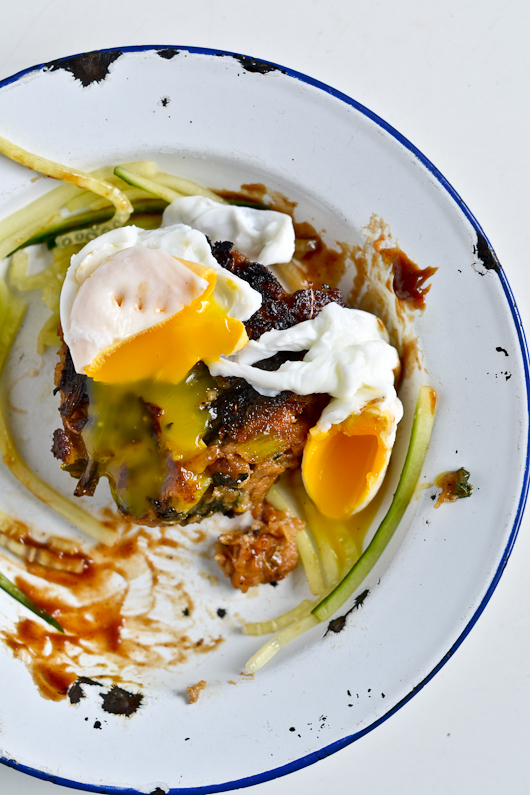 | | |
| --- | --- |
| Steamed Turnip & Sausage Cake, Pickled Cucumber | |
Recipe Type:
Brunch, Lunch
Ingredients
1 small turnip or large daikon (Chinese radish)
100g rice flour
125ml water
2 sausages, skin removed approx 100g meat
2 spring onions
1/2 tsp of salt
1/2 tsp of sugar
25g dried mushrooms soaked in warm water (optional ingredient)
25g dried shrimp soaked in warm water (optional ingredient)
Instructions
Finely shredded turnip or daikon, boiled for 5 minutes. Drain, then tightly squeezed to force out all the excess water.
In a large bowl mix the drained turnip with rice flour (about 50g of flour for every 300g of shredded turnip)
Fry together the chopped spring onion, rehydrated dried shrimp, rehydrated dried mushroom and sausage meat until the sausage meat is browned. Add to the bowl with the turnip and mix.
Carefully add in the water, little by little, stirring in until you have a very thick batter, like a loose dough.
Grease a dish (I used a pie dish) and steam for 30 minutes until cooked through
Leave to cool down and set. Cut into slices and fry.
Notes
Quick pickled cucumbers are made by letting the cut cucumbers sit in a cup of warm water, 1/2 a cup of white wine vinegar a teaspoon each of salt and sugar. Stir and leave for at least 15 ons