It's not easy trying to stay seasonal and avoid clichés... It's the Bank Holiday before Halloween today in Ireland. Leaves litter the garden, but I'm inside the house with the curtains drawn, the fire lit, slowly roasting a shoulder of lamb.

Nothing to do, nowhere to go.  It's a good day to eat soft fatty yielding shoulder meat, pulled from the bone. Paired with miso sweetened roasted cauliflower, butter fried golden chanterelle's, and a chlorophyll packed kale juice. The whole dish takes only a couple of minutes to prepare each ingredient....  nothing too scary for Halloween.
Method
Turn your oven on to a low heat ( 100C) - score the fat on your lamb shoulder, rub salt flakes into the scored fat. Place in roasting dish and put in the oven for 4 to 5 hours, until the exterior crusts up and the inside falls apart.
Mix equal amounts of white miso paste and butter together ( 1 large tablespoon each - or more as required). Rub into the head of a cauliflower (I used mini cauliflowers - but you could equally roast a large head and cut to serve). Trim the base of the cauliflowers so they stay upright and put them in the bottom of the oven to roast for at least 3 hours. Keep an eye on them so they don't burn.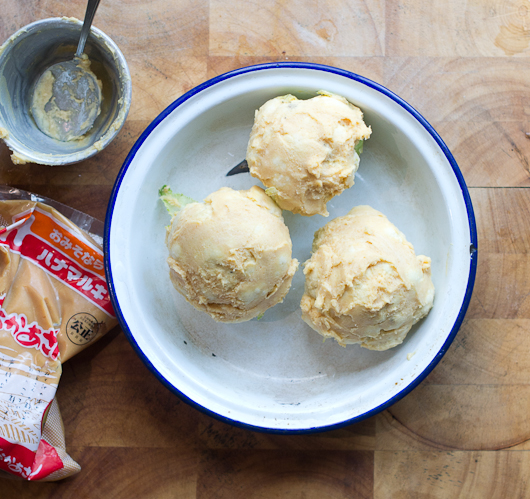 Kale juice is simple - blitz raw kale leaves in a blender. Take the mushed leaves out and squeeze through a clean dishcloth, and you have your juice. No need for an expensive juicer here. Now raw kale juice is shockingly green in taste - I temper it by whisking in a tablespoon of apple vinegar and a teaspoon of sugar.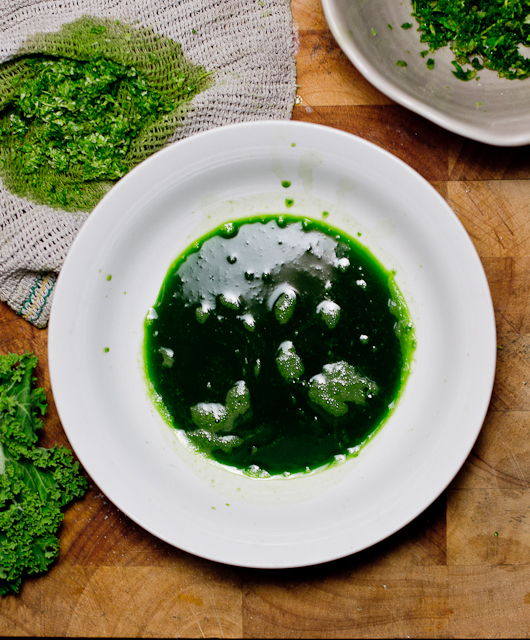 The chanterelle's are seasoned with salt and quickly fried in a tablespoon of butter.
When you're ready to eat the lamb - take out the cauliflowers and turn up the heat for the final 30 minutes to crisp up the crackling. Take out and rest for at least 20 minutes. Turn off the oven and you can put the cauliflowers back in to heat through as the oven cools down.