Bought the Joe Beef cookbook and read it one sitting yesterday. It calls itself 'a cookbook of sorts'  as it is part memoir, part rumination of their food philosophies, with plenty of recipes and beautiful photos. It's a mission statement for their artistic interests, a declaration of their love of food and life, and I loved it.
How can you not love a book that has a dish simply called 'Kale for a Hangover'? I've been banging on for ages about how good kale is and its  amazing restorative powers. In the book they go on to say "We can't explain why this helps cure hangovers, but it does. It's like a vitamin with a sugar coating (the coating being the bacon and butter)." Amen.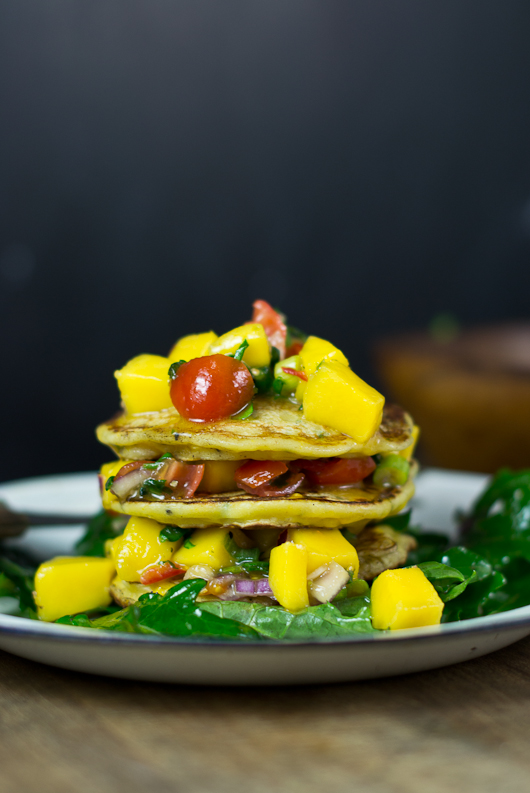 Today's brunch recipe includes kale, naturally, and sweetcorn fritters. The fritters are thicker than a normal pancake, soft, sweet and a little crunchy from the kernels. Unfortunately fresh corn isn't in season, tinned is ok, but look to use fresh corn if you can.
I cook half the tin of corn in 150ml of milk with a tablespoon of cream. Then blitz it with a hand blender. This gets the milk infused with the flavour of the corn. Add the blitzed milk to 100g of flour, 2 eggs and a good pinch of salt. Mix in some finely cut fresh chives. Combine until all ingredients are incorporated to make the thick batter. Melt a tablespoon of butter into a pre-heated frying pan and add a dollop of the fritter batter when the butter begins to froth. Flip after a minute or two and brown the other side. Test the first one to make sure it's cooked through. If  it's still a little runny in the middle, add a tablespoon of milk to the remaining batter.
The accompanying mango salad is simple – half a mango cut into dice, half a small red onion chopped finely and a handful of baby tomatoes cut in half. Squeeze over the juice of a lime and some finely shredded red chilli (to your own preference – I like lots). Add a good tablespoon of olive oil (more if you need it). Throw in some fresh coriander,  and a good pinch of salt. Let stand at room temperature for 30 mins to let the onions mellow and the other flavours mingle. I then remove the salsa into a serving bowl, and use the juices and oil left behind in the mixing bowl to dress the kale leaves with.