The ultimate compliment is when someone who you've fed thousands of times turns around and says that this is the best thing that you've ever cooked for them. Though to be honest, I didn't acknowledge the praise -  I was too busy diving back into the pork shoulder, pulling off shreds of pig, smothering it with sauce, wrapping into lettuce leaves and horsing it into me. I wasn't going to waste valuable pig eating time with idle chit-chat.... I was in a world of greasy, lip pulsing pleasure.
3 Ireland (home of  'all you can eat data') asked if I would be up for the challenge of posting a recipe for an 'all you can eat'  type of dish. I immediately thought of this as it had been on my to-do list for a long while. It's the ideal thing to serve family style - it's great value and everyone can gorge themselves on the succulent falling-off-the-bone perfect meat.
This is a David Chang recipe from the Momofuku cookbook, which he serves in his Momofuku Ssam bar for $200 - though in fairness - it's enough to easily feed 6 to 8 people. You don't have to worry about those sorts of prices if cooking at home - I sourced the pork shoulder in my local butchers for €15. That's an absolute bargain for the amount of eating available in this cut.
Pig shoulder with the bone in, dry brined in salt and sugar overnight, slow roasted in the oven for 6 to 7 hours, given a final sugar and salt rub and with the oven heat cranked up -back in for a final ten minute blast until the skin blisters and creates a salty caramel crackling crust. It is such a brilliantly simple recipe for stunningly amazing dish - there's no effort involved, other than a little time. This recipe will make the most amateur cook look accomplished, and as it is a meal to share, you can enjoy the pleasure of your friends and family as they devour the dish.
Serve the shredded pork on a lettuce leaf (I used butterhead lettuce) with some plain white rice, Ssam sauce (recipe below), ginger & scallion sauce (recipe below) - and pickled vegetables (I pickled some cucumbers in a chilli miso sauce).
Wrap the lettuce around the stuffing and eat.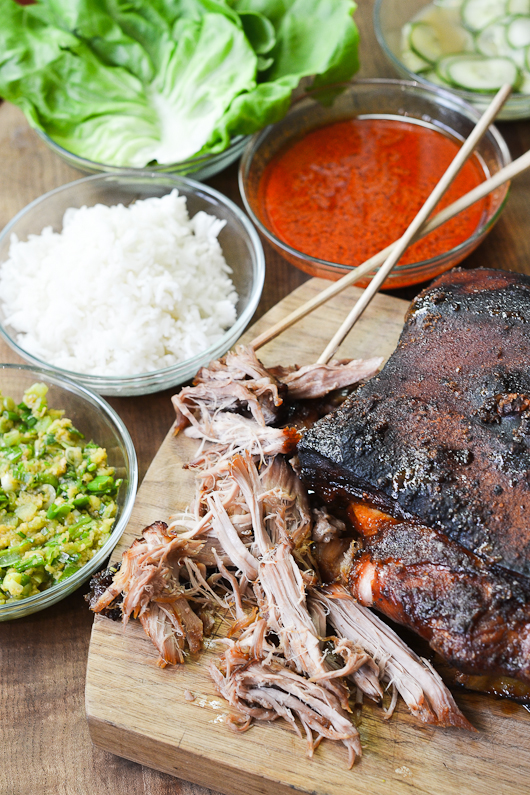 | | |
| --- | --- |
| Bo Ssam - Slow Roasted Pork Shoulder - Momofuku Style | |
Author:
Ingredients
1 pork shoulder (with bone-in)
100g white sugar
125g of salt flakes (like Maldon salt)
100 grams brown sugar
Instructions
In a large bowl mix 100grams of white sugar and 100grams of the Maldon salt together - then add the pork and rub the mixture all over the meat. Wrap the meat in clingfilm and place in the bowl. Leave in the fridge for at least 6 hours or overnight.
The next day, preheat oven to 150°C. Take the pork from refrigerator, pour away any excess juices and discard the clingfilm. Roast the pork in a roasting dish for approximately 6 hours until it starts to easily fall apart when a fork is pulled across it. Keep an eye on it and baste it every hour or so with the juices from the pan. When done you can take it from the oven and let it rest while you make the side dishes.
When you've made the side dishes - turn the oven up to 250°C. Stir together the brown sugar with a tablespoon of salt. Rub this all over the cooked pork an thrown in the hot oven for 10 to 15 minutes until a dark caramel crust has developed on the meat.
Notes
Ssam Sauce (whisk together all the ingredients below) 2 tablespoons ssamjang, (fermented bean-and- chili paste) 1 tablespoon kochujang, (chili paste) - both of these pastes available in many Asian markets 100ml sherry vinegar 100ml grapeseed oil Ginger-Scallion Sauce (whisk together the ingredients below) 250grams thinly sliced spring onions, both green and white parts 50grams peeled, minced fresh ginger 25ml grapeseed oil 25ml light soy sauce 1 teaspoon sherry vinegar ½ teaspoon Maldon salt, or to taste