I was raised on black pudding for breakfast. Part of a fry at weekends, or quickly grilled and smushed onto a piece of toast before we were bundled into the car for school. These days black pudding is becoming more popular, and not just for being stuffed into a breakfast roll. Perhaps it's due its low cost which appeals in these times of austerity. Or maybe it's because you can't watch an episode of Masterchef without one of the contestants popping a piece of pudding under a pan-fried scallop with a smear of pea purée.
Black pudding is a perfect example of good honest food, and nose to tail eating, using every last part of the pig. As a peasant food it not surprising that every country has their own version of it, though the Irish black puddings are now getting global recognition. Last year three Irish producers, McCarthy's of Kanturk, Caherbeg from Roscrea and Sean Kelly in Mayo were all honoured and celebrated by the prestigious Brotherhood of the Knights of the Black Pudding (La Confrérie des Chevaliers du Goûte Boudin)- so we in Ireland are punching above our weight again when it comes to good food.
Today's recipe is for a Black Pudding Croquette. The crispy breaded fried exterior yields with a crunch to reveal a soft interior made from creamy mashed potatoes, rich black pudding and spring onions. Now this is something I have eaten for brunch with a poached egg and hollandaise sauce, and for dinner served with pigs cheek and pickled rhubarb (further details below). Though it would also work brilliantly with a simple fried pork chop and some greens.
Method
Peel and boil 200g of potatoes in a large saucepan. Mash them with a tablespoon of butter and milk (add more butter if required).
Roughly chop 200g of black pudding and fry in a little oil for a minute, just to soften the pudding, not to crisp it up. Take out of the oil and add to the mash. Finely chop 4 spring onions and add to the mash. Give the ingredients a good stir to incorporate. Add salt and pepper to taste.
Mould into 4 equal burger sized shapes, though you could easily roll them into balls or cylinders if you'd prefer.
Roll the croquette in some flour, then dip in beaten egg, and coat with bread crumbs.
Shallow fry in plenty of hot oil until golden brown and drain on kitchen paper.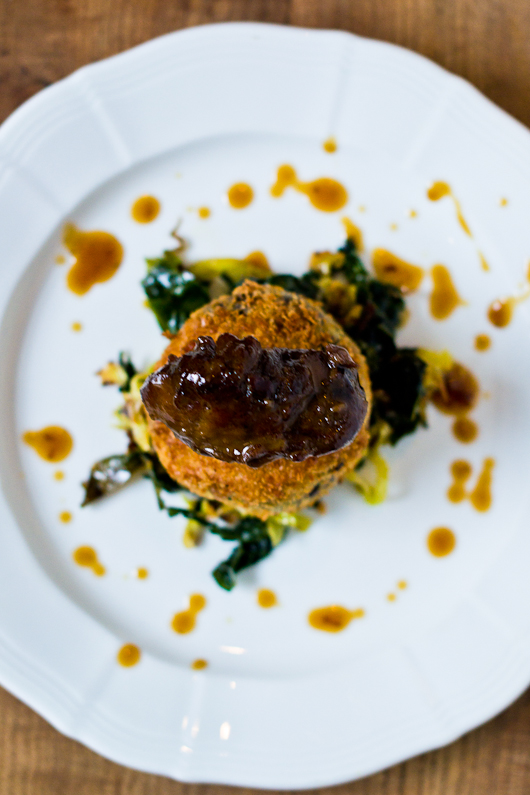 I served this with pigs cheek which was blasted in a pressure cooker with stock, carrots, celery, onions, and star anise. Took the cheeks out and reduced the stock to syrupy consistency. Quick pickled some cut strings of rhubarb in hot water from a tap and white wine vinegar (about a 1/2 cup of water to a tablespoon of vinegar) with a good pinch of salt and sprinkle of sugar. Also took a cup of the liquid used in the pressure cooker to glaze some savoy cabbage.
If I had more patience, I would have had nicer photos showing all the components. But I was hungry, and this was good.